Providing Quality Dental Care Since 1964
The team at Anchorage Dental Center has decades of experience and a solid dedication to improving the lives and health of those in Anchorage and its surrounding communities.
Meet the Doctor
Dr. James Driskell
Dentist in Anchorage, AK
Anchorage Dental Center
Dr. James Driskell was born and raised in Anchorage Alaska. He is a second-generation Alaskan dentist. He, like his father, graduated from Oregon Health Sciences University in Portland Oregon. After completing his studies and earning his degree in dentistry in 1989, Dr. Driskell retuned to Alaska and was privileged to join his father's practice at the Anchorage Dental Center Clinic, which was founded by his father in 1964.
Since his father's passing in 2005, Dr. James Driskell has continued to provide quality dental care to patients of all ages in the same Anchorage Dental Center location. He is very proud to have the opportunity to positively affect the health and lives of the people in Anchorage and the surrounding communities in Alaska. Dr. Driskell is committed to taking an active role in getting to know every dental patient and treating each one as an individual with a specific set of needs. He practices comprehensive dentistry, including endodontics, periodontics, oral surgery, partials and dentures, cosmetic dentistry, crown and bridge, implant restorations, and preventative care.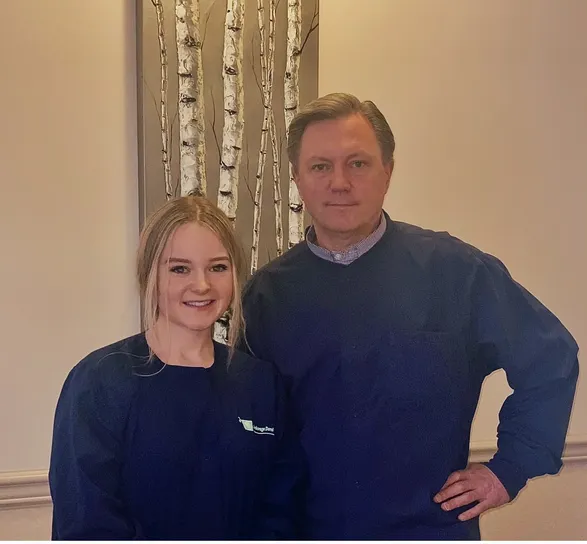 Dr. Driskell with his assistant, Alexis
Dr. Driskell strives to provide quality, compassionate and comfortable care to all of his patients. In his free time, Dr. Driskell enjoys spending time with his family which includes 3 boys, a granddaughter and his wife of over 30 years. He also enjoys spending as much time as possible taking advantage of the Alaskan outdoors. Some of his favorite things include hunting, fishing and flying.
---
Your Comfort is Our Priority
At Anchorage Dental Center, we understand that going to the dentist can be somewhat uncomfortable for some people. However, it is our staff's priority to ensure our patients feel comfortable and cared for throughout their visit.